By Steven L. Rauwerdink, D.D.S.
June 17, 2022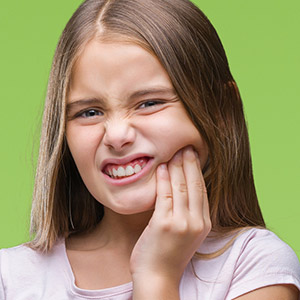 If your child suddenly begins complaining about a toothache, your average day can immediately turn into something else. It can become even more worrisome as you try to decide what to do.
It doesn't have to. There are definite things you can do to calmly and methodically deal with the situation at hand. Here, then, are action steps you can take when your child has tooth pain.
Find out where and when. To get the big picture, first ask the child where in the mouth it hurts and if they remember when it started. A rough estimate of the latter is usually sufficient to establishing how long it's been going on, which could help determine how soon you should call the dentist.
Take a look inside. You'll want to then look in their mouth for any observable signs of what might be the cause of the pain. Look for spots or small holes (cavities) in the affected tooth, an indication of decay. Also check the gums for swelling, a sign they may be abscessed.
Remove trapped food debris. While checking in the mouth, look for pieces of food like popcorn hulls or candy that might be wedged between the teeth. This could be the cause of the pain, so attempt to remove it by gently flossing between the teeth. If it was the source, their pain should subside soon after.
Ease their discomfort. You can help take the edge off their pain by giving them an appropriate dose for their age of either ibuprofen or acetaminophen. Don't, however, rub aspirin or other pain relievers around the affected tooth or gums—these medications can be acidic, which could severely irritate interior mouth tissues.
Call your dentist. It's always good for a dentist to check your child's mouth after a toothache. The question is when: If your child has responded well to pain medication and has no swelling or fever, you can wait to call the next day. If not, call as soon as possible for an appointment.
A toothache is rarely an emergency, but it can still be disconcerting for you and your child. Knowing what steps to take can help resolve the situation without a lot of discomfort for them and stress for you.
If you would like more information on dealing with a child's tooth pain, please contact us or schedule an appointment for a consultation. You can also learn more about this topic by reading the Dear Doctor magazine article "A Child's Toothache."
This website includes materials that are protected by copyright, or other proprietary rights. Transmission or reproduction of protected items beyond that allowed by fair use, as defined in the copyright laws, requires the written permission of the copyright owners.